Natural plant based anabolic supplement.
Contains saponins, phytosterols & steroidal alkaloids. Suitable for volume and strength training.
The special blend of ingredients
Carefully sourced, measured and combined, AndroGain gives you outstanding results in a completely safe and natural way.
Scientifically Formulated For:
Individual results will vary.

Helps reduce stress and anxiety*

Helps enhance memory and cognition*
Helps support healthy weight management*

Helps maintain normal thyroid*

Helps promote muscle strength, size and recovery*

Helps enhance cardiorespiratory endurance*

Helps promote sexual function in men and women*

Helps maintain healthy testosterone in men*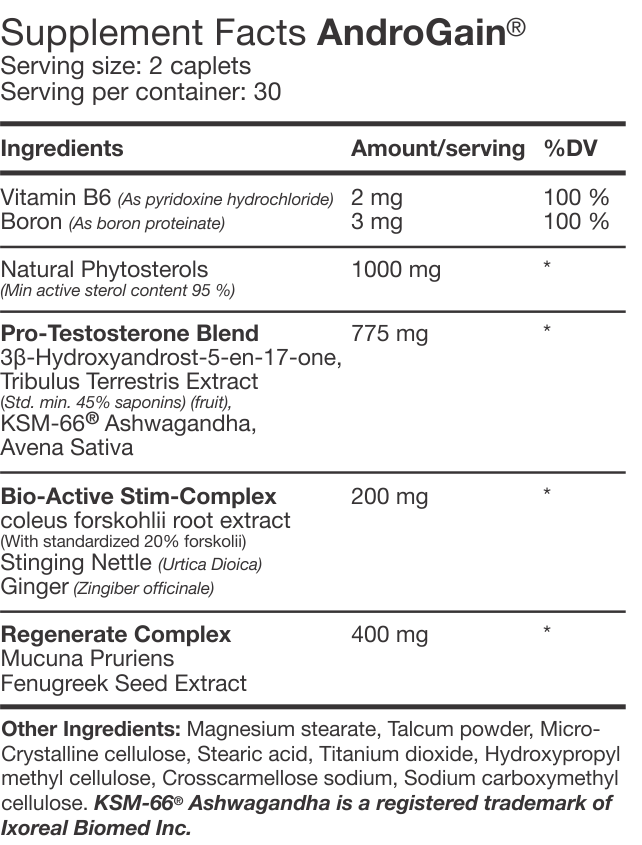 Take 2 caplets of AndroGain® daily with water (1 before breakfast & 1 before bed). For best results, vigorous exercise and a sensible diet are recommended. Use this product for minimum 4 weeks for maximum results. Do not exceed longer than continuous 8 weeks without taking any break of 3-4 weeks. Do not exceed 2 caplets daily.
Individual results will vary. Storage: Store at cool and dry place away from sunlight. Keep out of reach of children.
Allergen information: This product is manufactured on equipment that also processes products containing nuts, tree nuts, wheat & soy ingredients.
AndroGain® is intended to use for healthy male adult 21 years or above. Immediately discontinue use and contact your physician if any adverse reactions occur. AndroGain® is not suitable or intended for use by women and persons under 21 years of age.
Statements regarding dietary supplements have not been evaluated by FSSAI and are not intended to diagnose, treat, cure, or prevent any disease or health condition.